Retouch of photos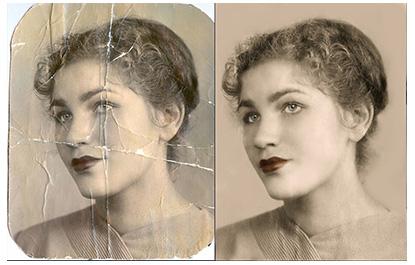 Photos with timelose colour, dull, become covered by small cracks, breaks and scratches. Nowadayshigh-quality restoration of photos has become possible thanks to modern technologies of processing of images.
All operations for restoration and retouch of photos are carried out on the computer by means of various tools of the graphic editor Adobe Photoshop.
Our specialists possessing wide experience of work in this sphere will return the primeval appearance of a photo, nevertheless having left shadow of time giving naturalness and a charm of the years have been gone.
Restoration of old photos is the creative, labor-intensive process taking time from half an hour till 24 hours ,which includes:
Correction of light and shade. Editing of an exposition

Removal of scratches, breaks, soiling , points, spots

Removal of the seals or ink spots

Removal of a stamping

Restoration of the damaged fragments ofpicture

Restoration of the lost fragments of photos
From what the cost of works on a retouch of the photo depends on and how is correctly to estimate it?



The preliminary cost of restoration can be learned at registration of the order. The final cost of restoration is determined by our specialist only after he will scan the photo and estimate degree complexity of works . Final cost can be changed both in greater, and in the smaller amount.
Low degree of complexity
Color and tone correction of the dull and faded photo. Small damages on the background and clothes. Small spots, points.
Average degree of complexity
Average number of small damages (scratch). The breaks and cracks passing through face. Texture and stamping of photographic paper. Damages of picture on parts of body, on face. Lack of fragments with details on the background of, clothes.
High degree of complexity
A large number of damages on face. Lack of an eye, etc. Big percent of loss of the image. Such work demands wide experience and artistic grounding as in this case it is necessary to draw missing details and fragments manually.